Lithic & Historic Artifact Exhibit
HELP FUND THE LITHIC & HISTORIC ARTIFACT EXHIBIT COMING TO THE NATURE CENTER IN 2022
Donations are being sought to create a lithic (stone) artifact exhibit at the Jester Park Nature Center to educate visitors about Iowa's archaeological past. This $60,000 exhibit is anticipated to open to the public in the spring of 2022. Over the past 30 years, private collections of artifacts have been donated to Polk County Conservation. All of the artifacts originated from S.E. Polk County and represent over 12,000 years of human inhabitance in this area. 
How to Donate
IMPORTANT: Upon donating, type "ARTIFACT" in the comments box. If you would like to be recognized on our website, be sure to include your name/group/organization.
Click here to make a donation for this exciting project.

For more information or questions, contact lewis.major@polkcountyiowa.gov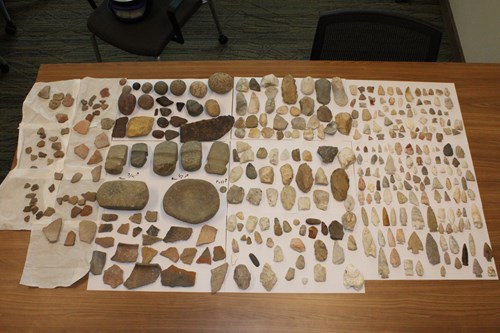 Preview of lithic artifacts that may be on display.
About the Exhibit
Private collections of lithic (rock) and historic artifacts have been donated to Polk County Conservation (PCC) from families and individuals. The combined collections include over 600 artifacts collected in or around what is now Yellow Banks Park in SE Polk County. Artifacts include a wide variety of projectile points, axes, celts, mauls, pottery sherds, grinding slabs, and a rare banner stone. The artifacts represent four distinct archeological time-periods spanning over 13,000 years of human inhabitance in the area. 
Learn more about this collection:


Artifact Donors
PCC would like to express sincere gratitude to the families and individuals that generously donated the following artifacts. Without their thoughtfulness, this cultural and historic resource would not have been possible. These artifacts will help to educate and inform our community about Iowa's cultural heritage and the people who called this land home long before it was called Iowa.