The Art of Jester Park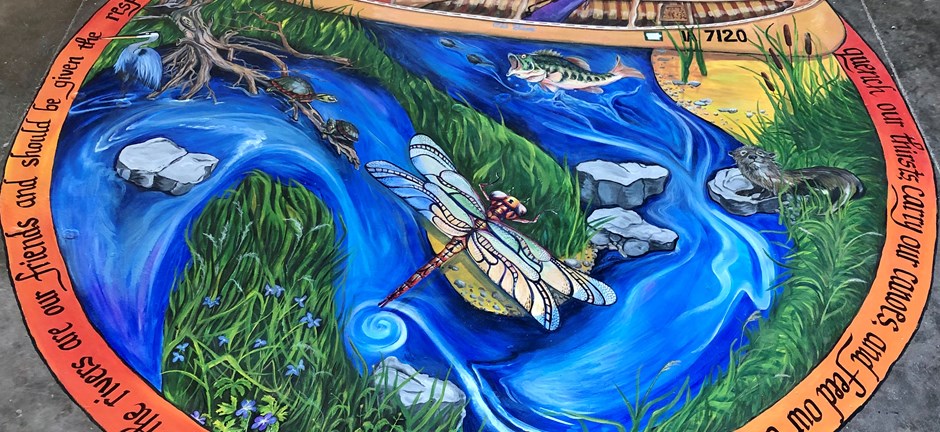 "Public art has the power to energize our public spaces, arouse our thinking, and transform the places where we live, work, and play into more welcoming and beautiful environments that invite interaction. Beyond its enriching personal benefits, public art is a true symbol of societal maturity. Public art helps green space thrive, enhances roadsides, pedestrian corridors , and community gateways; it demonstrates unquestionable civic pride." "Wood Is Art", Public art Benefits of Public Art [www.lakewoodisart.com]
Explore local art as you adventure throughout Jester Park
Over the last decade, Polk County Conservation has expanded public art throughout our park system. Today, park visitors can experience a myriad of art that educates, inspires, informs and arouses their curiosity about our natural world. This link shows you our current public art and where to find it!
The Galleries at the Jester Park Nature Center

The Galleries at Jester Park Nature Center offers the opportunity for local art to be displayed and made available for sale to park visitors. 
Current Exhibition -

 

The Wildlife & Nature Art of Timothy Pross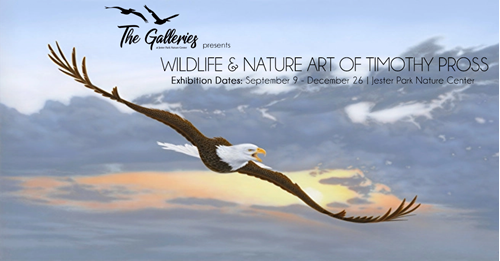 Polk County Conservation and the Jester Park Nature Center are pleased to present, The Wildlife & Nature Art of Timothy Pross. This art exhibition highlights the work of Atlantic artist, Timothy Pross.
Since childhood, Tim is happiest when he is actively engaged in the exploration of nature. His intent as an artist is to take those experience and feeling and strive to express them in his paintings. As an artist, Tim is constantly striving to refine his work down to just those elements needed to create a strong composition, operating on the concept that the more memorable works of art are achieved with the idea that "less is more." Tim's work can also be viewed on his website. 
Glass artist, Tilda Brown Swanson will continue to show her work on the main level of the nature center. Tilda has been working in glass for 30 years. She layers flat glass, powdered glass, and sometimes copper to explore moments of beauty she sees in the natural world. She enjoys working in glass because it offers deep color, transparency, and visible layers. To see more of Tilda's work, visit her website.
The Wildlife & Nature Art of Timothy Pross will be on display from September 9 to December 26 during Jester Park Nature Center hours. Hours can be found at jesterparknaturecenter.com. For additional information, please contact Missy Smith at 323-5317.
FREE to the public
Prairie Sculpture Trail 
The Jester Park Sculpture Trail features 5 unique nature-inspired public works of art. Each sculpture is located along a beautiful nature trail beginning at the front entrance of the Jester Park Nature Center. Take a hike and discover each art piece as the trail leads you around the pond, over the creek, through the woods, and eventually back to the nature center. During the hike, you will discover sculptures meant to educate, inform, and nurture our fascination and curiosity about the natural world. The newest sculpture, "Horai" was recently added. This full size bull elk, made from barbed wire and 16 gage welded scrap metal, was created by artist, Jeff Best, of Devil's Rope Studio. Hoari means a portion of time or season and with this piece, Hoari is referring to the elk's fall bugling season when he competes for breeding rights. Check out this video for a talk with the artist about his piece.
The sculpture trail now culminates with Lupine, a temporary outdoor exhibit, displayed behind the Jester Park Nature Center in conjunction with our permanent outdoor Prairie Sculpture Trail. This 12 foot tall prairie flower is on loan to us from artist, Tim Adams, of Webster City, Iowa. Inspiration for many of Tim's pieces come from his professional training in Landscape Architecture and Horticulture. Natural landforms and native plants are the starting points for many of his sculpture concepts. Lupines were once thought to grow on prairies in northern Iowa, but our hot, dry summers make it hard for them to carve out a true home here. To foster sustainability Tim strives to incorporate recycled metals and repurposed materials when practicable. Join us in welcoming Lupine at the May 12th Galleries Opening Reception at the Jester Park Nature Center starting at 6 pm. Lupine will remain on display through April 1, 2023.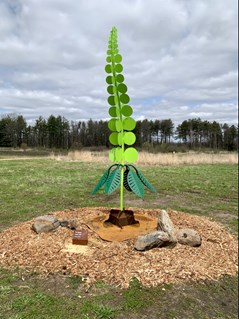 Public Art Throughout Our Parks
Don't stop your art exploration at Jester Park. You can find public art throughout our park system. 
Easter Lake

Butterfly, 2015

Medium: Willow and Terracotta

Size: 4' x 8'

Artists: Pam Dennis and Ryk Weiss

Great Western Trail

River Chuck Stop, 2018

Medium: Steel, Repurposed Bicycle

Size: 12' tall

Artists: Barney Feezell and Steve Haefner

Thomas Mitchell Park

Morel Mushroom, 2005

Medium: Wood Carving (oak)

Size: 7.5 'x 5'

Artists: Mike Sibley and Jim Swearengin