The Galleries at the Jester Park Nature Center

The Galleries at Jester Park Nature Center offers the opportunity for local art to be displayed and made available for sale to park visitors.
CURRENT GALLERY
Perspectives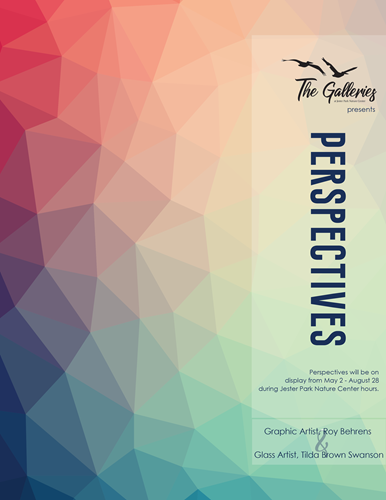 Polk County Conservation and the Jester Park Nature Center are pleased to present, Perspectives. This art exhibition highlights the work of graphic artist, Roy Behrens and glass artist, Tilda Brown Swanson. There will be wine and refreshments as well as an opportunity to meet Tilda at the Opening Reception on Thursday, May 12, from 6 – 8 pm at The Galleries at Jester Park Nature Center.
Roy Behrens, University of Northern Iowa Professor Emeritus and Distinguished Scholar, will be showcasing a collection of full color posters commemorating 23 National Parks and Monuments. Roy used his graphic design skills to create these beautiful digital montages. If you are unable to make it in to see Roy's posters, there is a video version of his exhibition and his website where all of his posters can be viewed. 
Tilda has been working in glass for 30 years. She layers flat glass, powdered glass, and sometimes copper to explore moments of beauty she sees in the natural world. She enjoys working in glass because it offers deep color, transparency, and visible layers. To see more of Tilda's work, visit her website.
Perspectives will be on display from May 2 to August 28 during Jester Park Nature Center hours. Hours can be found at jesterparknaturecenter.com. For additional information, please contact Missy Smith at 323-5317.
FREE to the public