The Galleries at the Jester Park Nature Center

The Galleries at Jester Park Nature Center offers the opportunity for local art to be displayed and made available for sale to park visitors.
CURRENT GALLERY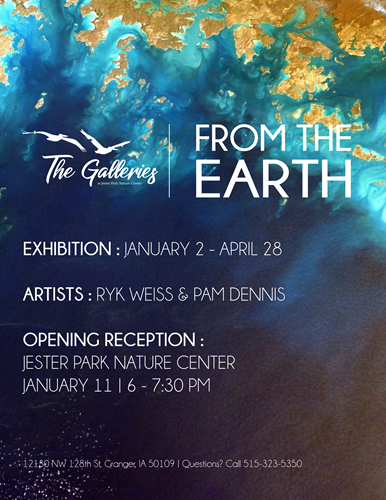 From the Earth
This art exhibition highlights the work of Ryk Weiss and Pam Dennis.
Their career has been a balance of two paths- the making of individual artworks, and interaction with the public through teaching and collaborative works. The themes they pull from the natural world give the audience a familiar way to enjoy and understand their environment. They hope to evoke a higher awareness of the rich diversity of nature through the sculptural stories they tell celebrating the life of the Midwest.
From the Earth will be on display from January 11th to April 28th during Jester Park Nature Center hours. Hours can be found at jesterparknaturecenter.com. For additional information, please contact Missy Smith at 323-5317.
FREE to the public