Mural Makes Rivers Come Alive at Jester Park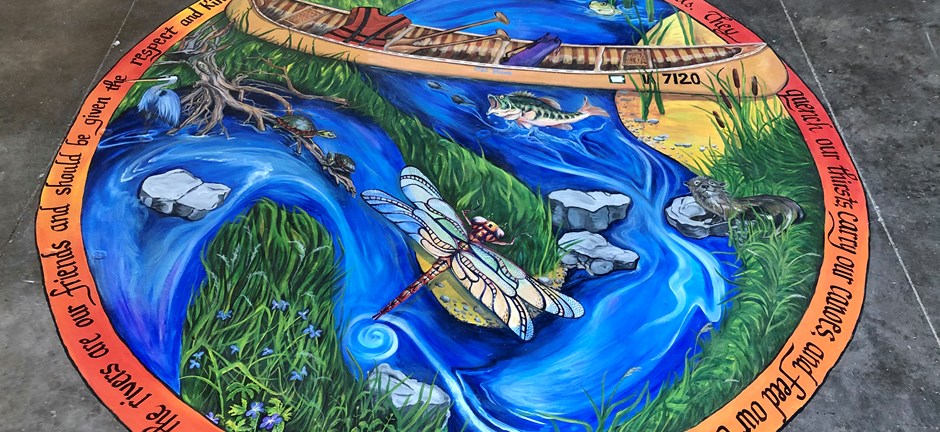 Art has the power to inspire us in times of adversity, and the ability to teach our society that even in times of ugliness, beauty is still all around. Retired West Des Moines Art Teacher, Jan Hutchison, saw a need and was inspired to give back during this difficult time in our world. She responded to a Polk County Conservation Facebook post in May asking for a volunteer artist to lend their time and talent to design a river floor mural that would eventually act as a visual aid to assist in teaching about river safety, river navigation, and river ecosystems.
Naturalist Lewis Major sat on the idea of this mural for several years. The COVID pandemic presented an opportunity and the extra time to finally explore the mural's creation. Along with the educational elements, Lewis wanted the work of art to inspire visitors about the fragility and importance of our rivers. The original concept sketch was given to Jan and in a matter of an hour, she had taken the sketch and transformed it to a fun, creative piece of art while retaining all the educational components necessary to allow it to be used as a teaching tool.
Polk County Conservation naturalists will use the mural to give those who are about to paddle a river a bird's-eye view of possible situations they may need to navigate through or around. For example, on the outside bend is where you find the deepest fastest water and the inside bend the slowest and shallowest water. On the outside bend is where you can also find strainers (a fallen tree or branch in the water), which can be dangerous. Also incorporated was some of the flora and fauna that are commonly seen along our river ways, such as great blue herons, painted turtles, and dragonflies. See how these animals create a food chain and function together to form an ecosystem! Learn which native plants to avoid like poison ivy and stinging nettles as well. Lastly, the mural allows staff the medium to talk a little about paddling gear and the importance of wearing a personal floatation device. An inspirational quote finishes off the project reminding us how we should treat our rivers with kindness and respect. 
The project took about three weeks to complete. This was during the peak of COVID and the riots in downtown Des Moines and across the nation. On the day this project began, there was a lot of tension, stress, and ugliness in the world, but Jan choose to not focus on the negative, but rather the positive of creating something to make the world a little more beautiful. Jan enlisted the help of her daughter, Waukee Elementary Art Teacher Sarah Del Campo, her friend Jani Miller, and one of her former students Emma Fust to assist with the painting. Together, the four of them put in nearly 90 hours of volunteer time on the project.
Jan and the other volunteers reminded us that despite unsettling times there are so many positive, hopeful, and determined people ready and willing to make the world a better place. The floor mural is located at the Jester Park Outdoor Recreation and Wellness Center. The Center, adjacent to the Jester Park Nature Center, offers a wide range of outdoor programming through Polk County Conservation, rental equipment, and the Petra Alward Bouldering Room, allowing everyone access to outdoor adventure and fun! The Center is open Thursday – Sunday during the summer season. Come explore what these facilities have to offer and check out the river mural while you are there. For more information about the Outdoor Recreation & Wellness Center, go to http://www.jesterparknaturecenter.com/outdoor-recreation-wellness-center/.    
This is a promo pod
Pods can be used to help promote important information and direct site visitors to additional information.